Empower quality management and improve quality efficiency | Keyuan Pharmaceutical, the parent company of Linuo Pharmaceutical, held a QC group training meeting
---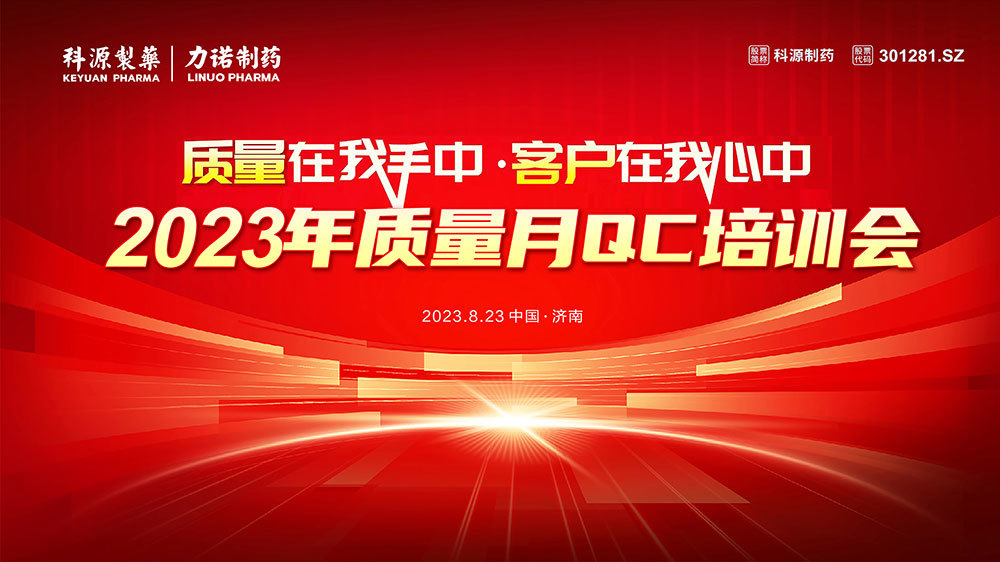 In order to thoroughly implement the theme spirit of "Quality is in my hands and customers are in my heart" for Keyuan Pharmaceutical (stock code: 301281.SZ) Quality Month in 2023, and empower and improve quality management, the Quality Management Center and Human Resources Center held a meeting on August 23 The joint organization carried out a one-day QC group activity training meeting.
This training meeting specially invited Liu Xingcun, vice president of Linuo Business School, to give an on-site explanation. Liu Xingcun elaborated on the basic knowledge of QC groups, QC group activity standards (T/CAQ10201-2020), etc., made a comparative introduction to problem-solving and innovative QC groups, and shared actual cases based on the above content . At the same time, Liu Xingcun gave specific guidance and suggestions to Keyuan Pharmaceutical's three ongoing QC project groups.
Keyuan Pharmaceutical quality, production operations, human resources leaders, technicians, quality personnel and Linotebo (stock code: 301188.SZ) quality management personnel participated in this training.
Through Liu Xingcun's in-depth and simple training, the participants not only gained a new understanding of the QC team's development process, management ideas, and problem-solving logical relationships, but also learned the specific requirements and standards for QC team work. More importantly, they learned analysis Problems, ideas and methods to solve problems, so as to more quickly apply them to the actual work of quality management.
In the future, Keyuan Pharmaceutical will continue to organize professional improvement and empowerment training to consolidate the professional foundation of each department and inject strong impetus into the completion of the company's strategic planning goals.
Keyuan Pharmaceutical will always adhere to the principle of "quality makes the future, quality creates trust", adhere to the concept of "safety, environmental protection and quality are the lifeline of the enterprise", and earnestly implement the theme spirit of "quality is in my hands, customers are in my heart" to do Strict quality management throughout the entire process, process, and process to improve product quality stability, lay a solid foundation for the company's high-quality development, and strive unremittingly to provide better quality products to customers in dozens of countries and regions around the world.

ADD:#30766 Jingshidong Road, Linuo High-tech Park, Jinan, Shandong Province, P. R. China